Surescreen Covid-19 Antibody Test (Box of 25)
Surescreen Covid-19 Antibody Test (Box of 25)
---
---
Recommend this product to a friend or loved one
Recommend a friend
---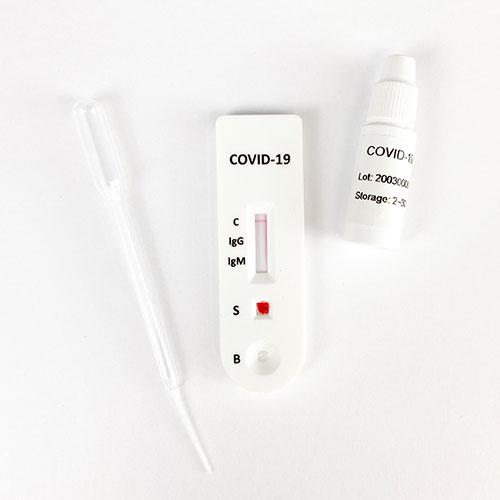 Surescreen Covid-19 Antibody Test (Box of 25)
Link: https://www.healthytogether.co.uk/surescreen-covid-19-antibody-test-box-of-25
---
Do not pay for the tests at this stage, if you are interested in a box of 25, add the number of boxes to your basket, place your order and then wait for us to contact you.
We are not supplying these to anybody wishing to make a profit from the sale of these tests, if that is your intention, please go direct to the supplier. 
Please be aware that current advice states that there is no guarantee of immunity if you test positive for Covid-19 antibodies.
Please see our blog post relating to the 25 tests we received  https://www.healthytogether.co.uk/blog/surescreen-diagnostics-covid-19-antibody-test-update .
You can also read about this test in the Daily Mail https://www.dailymail.co.uk/health/article-8332927/I-family-guinea-pig-new-Covid-antibody-test.html .
We are not aiming to make a profit from the sale of these tests, we are hoping to help enable people, to be tested at the lowest cost possible. A small administration charge is included in the price of each box to cover our costs.
As it currently stands unless you are a NHS or Front Line organisation, the minimum order is 1000 tests. 
We are offering to facilitate an order by combining orders together.
We will only place an order once we have reached the minimum order threshold which is currently 40 boxes, we will not require payment until we have reached the threshold.
These tests come in boxes of 25 with one bottle of solution per box.
The ideal scenario is to have a medical professional conduct all of the tests at one location.
The supplier currently has a backlog of orders to clear and cannot therefore give a lead time at this present moment, however there is a queuing system in place and the sooner an order is placed the sooner you will receive it.
This test is also available to purchase direct from the supplier Surescreen Diagnostics Ltd, there is a currently a minimum order of 1 box of 25 tests for NHS and frontline workers and a minimum order of 40 boxes of 25 tests for other organisations.
About Our COVID-19 Rapid Test Cassette
SureScreen's COVID-19 rapid test identifies the body's response to coronavirus after infection, and gives a qualitative yes/no result within 10 minutes.
Implementing rapid screening for COVID-19 has huge time and cost savings when compared to laboratory screening, and will help to control the spread of the virus by identifying infection before symptoms appear.
The Test Cassette is easy to use, needing only a finger-prick sample to function, much like a home blood glucose test.
As well as whole blood, the cassette can also be run with serum or plasma samples.


About Coronavirus (COVID-19)
COVID-19 is an infectious disease that can affect your airways and lungs, caused by the most recently discovered coronavirus.
This infectious disease was unknown until the recent outbreak which originated in China in late 2019. At time of writing, cases of COVID-19 continue to rise daily across the globe.
The most common symptoms associated with COVID-19 are fever, tiredness and a dry cough, but symptoms can take up to 14 days to appear so it is difficult to know if someone has been infected ahead of these conditions appearing. In the meantime, infected people can spread the virus unknowingly.
FAQ's
Accuracy, sensitivity and specificity?
SureScreen's new coronavirus lateral flow test uses antibodies that are specific for immune glycoproteins that are produced by infected individuals in response to the new coronavirus. These glycoproteins are called Immunoglobulin M and G (IgM and IgG). Immunoglobulins are normally produced by the immune system in response to bacterial or viral infections and act to 'flag' the pathogen, so that other immune cells can detect and kill it. The IgG/IgM that the test detects are specific to the SARS-CoV-2 virus, so a positive result would indicate the patient has contracted COVID-19. Since there are two analytes of interest (IgM and IgG), there are two test lines on the strip. Only one test line needs to be seen for a positive diagnosis (as well as the control line). Two test lines would also indicate a positive result. The new test has the following specifications: IgG - sensitivity = 100%, specificity = 99.5%, accuracy = 99.6%, IgM - sensitivity = 91.8%, specificity = 99.2%, accuracy = 97.8%
Is the coronavirus test CE marked? Does the test have IVD certification?
Yes, the COVID-19 test is CE marked for professional use, and is therefore a registered IVD device.
Is the product already on the market, e.g. in Great Britain?
This is a relatively new test, but is now being used successfully in many countries around the world.
Is this a new product exclusively for Coronovirus?
Yes, this test is COVID-19 specific, detecting SARS-CoV-2 as an aid in the diagnosis of primary and secondary infections.
What is the evidence for reliability of this test?
Our COVID-19 test has undergone comparative studies for CE certification using PCR analysis, using 181 samples for both IgG and IgM antibodies.  This test is actually an evolution of our well-established Influenza rapid test that has been on the market for many years and demonstrated excellent accuracy and diagnostic value.
Has the test been accredited by the NHS or Public Health England (PHE)?
The COVID-19 test is CE marked for professional use, and is therefore suitable for use by any health professional.  This test is very new to the market and is an excellent and accurate way to test quickly for the COVID-19 pathogen.
Do you have a confirmation lab test for Coronavirus to confirm positive samples?
This is something we are looking at, but we would recommend any non-negative results are referred to a medical health practitioner through the NHS who have access to confirmatory testing through a laboratory. Phone 111 from any mobile or landline or visit https://111.nhs.uk/ for further information. Do NOT visit your local surgery to avoid spreading any potential infections.
Benefits Of Our COVID-19 Rapid Test Cassette
Significant time and cost saving over lab methods
Results within 10 minutes
Identifies infection before symptoms appear
Assists in the control of viral transmission
Screen anywhere
Ideal as a triage and screening tool
Accuracy of 97.8% (IgM) and 99.6% (IgG)
Easy to use and read, with no specialist equipment required
Study Details:
902 samples from patients in Hubei, China. 446 tested for IgG and 456 tested for IgM
Procedure:
Each sample analysed using test cassette. Simultaneously,
SARS-CoV-2/IgG/IgM presence confirming using lab test
Results:
For both IgG and IgM
Sensitivity > 91%
Specificity > 99%
Accuracy > 97%